The summer can be a golden opportunity to focus on SAT preparation. For most students, you have more control over your time and fewer assignments and obligations. You might also be planning some visits to colleges and universities and thinking more about your path after high school.
So let's take advantage of the summer! Our new blog series provides a step-by-step guide to effectively use your summer break to improve your SAT score. 
Today, we'll cover Steps 1 & 2 …
Step 1: Assess your strengths and weaknesses
If you have already taken a real SAT or PSAT:

Sign in to review details of your scores using your College Board account. How did you do in the different sections of the exam? Scroll down the page to get more information on how you performed in Reading, Writing and Language, and Math, and keep scrolling to get even more details on different topics within those sections.
Next, create a free account at Khan Academy and link your College Board account to your Khan Academy account.

From your Khan Academy account, here's where to click to link your College Board account.

Khan Academy will now suggest

customized practice

for you, based on your SAT and/or PSAT results! It's free and officially recognized by the SAT.
If you have never taken a real SAT or PSAT:

Take an official Practice Test: Download SAT Practice Test 1 and complete the full test. Take the test seriously so that your results will represent your current strengths and weaknesses.

Use the

SAT Daily Practice App with Scan and Score function to automatically score your practice test.
(If you don't have a smartphone, you can enter your answers into Practice Test 1 at

https://www.khanacademy.org/mission/sat/exams

and get the same effect.)

If you haven't already created

accounts

at

College Board

  and

Khan Academy

, do so, and

link

them.

Khan Academy will now suggest

customized practice

for you, based on these first practice test results! It's all free. 🙂
Step 2: Set score goals
What score do you need to get on the SAT in order to be a competitive applicant for your favorite colleges and universities?
Don't just guess! Just like a good SAT answer, you need evidence for your response.
Let's do some quick research. Search for "Middle 50% SAT Range for" + the name of a university that you're interested in.
For example, let's say that New York University (NYU) is one of your top-choice schools. According to the NYU Admissions office, the middle 50% of incoming first-year students had total SAT scores ranging from 1350 to 1530. That means that about 25% of the incoming class had a score under 1350, and 25% had a score over 1530.
This tells us that it's possible to get into NYU with an SAT score of under 1350, but only a quarter of the entering class had scores like this. To ensure that you are a competitive applicant, you'll want to make sure you are in this middle 50% range, so aim for at least a 1350. If your high school GPA (grade point average) is lower than NYU's typical 3.7 on an unweighted 4.0 scale, you should set your goal significantly higher.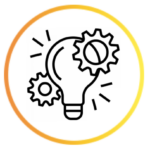 Bright Tip: In order to set your SAT score goal, research the middle 50% SAT scores of at least 3 universities that you would like to apply to. Compare your high school GPA to the university average; in general, the lower your GPA, the higher your SAT score will need to be to keep you competitive.
---
Following Steps 1 and 2, now you have an idea of where you stand today and what your goal should be. These are the first steps toward effectively using your summer to study for the SAT.
In our next blog post, we'll cover Steps 3 & 4: creating a good plan, and the best resources to use. See you soon!